Conservation Biology and Sustainability: Preserving the Planet
Level:
Open to students entering grades 9 through 12 or freshman year of college in the fall
Session:
II - July 21–August 7, 2020

Days & Time:
Monday–Friday, 9:10 –11:00 a.m. and 1:10–3:00 p.m.
Teacher(s):
Lauren Esposito with Eric Stiner
Prerequisites:
One year of high school biology.
"The field trips were the best. It made what we were learning so much more tangible and allowed for a hands on learning experience." – Sara K. | Fair Oaks, California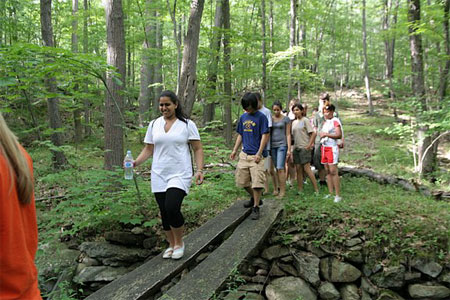 Course Description
Designed for students with a background in biology, this program investigates some of the exciting recent developments in conservation biology. Topics include: what is biodiversity, why is it threatened, and why is it important?; habitat alteration and species loss; captive breeding as a conservation tool; conservation genetics; protected areas; the effects of exotic species in local ecosystems; conservation medicine; and the impact of global warming on ecosystems and wildlife. The course uses real case studies from conservation research to take an in-depth look at the challenges in conserving life on earth, and the unique ways scientists and ordinary citizens can make a difference.
Class lectures and activities are supplemented with several field trips to sites in the New York area. Students will visit area institutions that address conservation—the American Museum of Natural History, the Bronx Zoo, and the Hudson River Trust—to see behind-the-scenes research and talk with professionals in the field of conservation biology. The course culminates with a 3-day (2-night) trip to Black Rock Forest, where students will participate in hands-on conservation and restoration projects in the reserve.
Please note: Though this course is intended primarily for older students, it is also open to highly qualified rising freshmen and sophomores.
Teacher(s)
Lauren Esposito
Dr. Lauren Esposito is the Schlinger Chair of Arachnology at the California Academy of Sciences. She is also the co-founder of a science, education, and conservation non-profit called Islands & Seas. Before coming the the Academy, Lauren travelled extensively in the Caribbean region as a National Science Foundation postdoctoral fellow (University of California at Berkeley), studying biogeography of arachnids in one of the greatest biodiversity hotspots in the world. Her doctoral dissertation was completed at the American Museum of Natural History in collaboration with the City University of New York, and focused on the medically important North American scorpion genus Centruroides. Lauren's current research focuses on trying to understand the patterns and processes of evolution in spiders, scorpions, and their venoms. A passionate educator, Dr. Esposito has organized education programs on the importance of conserving biodiversity, worked in digital science curriculum development, and taught courses on a range of topics for elementary through graduate students.
Eric Stiner
Eric Stiner received his M.A. in conservation biology from Columbia University and is currently a Ph.D. fellow at the University of California at Riverside researching adaptation and environmental effects on the evolution of an organism's genome. He researches everything from insects to mammals and hopes that his projects will further conservation biology efforts locally and in at-risk ecosystems across the globe. More specifically, his current projects aim to solve some of the mysteries behind unique evolutionary processes that do not adhere to more traditional theories of evolution. He is an avid field biologist and has conducted field work on three different continents. He spends as much time as he can in the field teaching courses and collecting data from vertebrates and invertebrates for a myriad of ongoing projects. He is a co-founder of the nonprofit conservation organization Islands & Seas, based in San Juanico, Mexico. Much of his current work involves education and conservation in this fragile ecosystem just south of the Vizcaíno Biosphere Reserve, one of the largest and most diverse biospheres in the new world.
Specific course detail such as hours and instructors are subject to change at the discretion of the University. Not all instructors listed for a course teach all sections of that course.