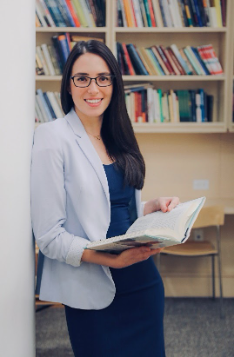 UNDERSTANDING THE HUMAN MIND: MEET DR. ALISON JANE MARTINGANO
Dr. Alison Jane Martingano is beloved around the Academic Year Immersion program as someone who is "always looking out for us," according to one of her students.
"When studying something as complex as the human mind, it is important to me that my students appreciate experimental rigor," Dr. Martingano said. "If they hear on the news "according to scientists ...", I want them to have the tools to evaluate the quality of that research and whether they should accept those scientists' conclusions."
Dr. Martingano teaches two courses in the Academic Year Immersion program, both focusing on how to help her students understand the human mind: "Introduction to the Science of Psychology" and "Social Psychology: Understanding Human Behavior."
She defended her Ph.D. in Cognitive, Social and Developmental Psychology in 2020 at the New School for Social Research after also finishing an M.Phil and M.A. in Psychology from the New School for Social Research.
Her research has been published in academic journals such as the National Academy of Sciences, PLoS One, and the Journal of Interpersonal Violence as well as being featured on the radio program BBC Radio 4.