Student Experience
Pick and choose from a variety of co-curricular activities
"I now have a basic understanding of business, finance, and economics which helped me further understand possible career options and college majors."
– Zachary A.
Overview
Columbia University's High School Online Immersion Program is not just about what you learn inside of the classroom, it's also about what you learn outside of the classroom and the connections you make with peers, faculty, and staff. We encourage students to make the most of their experience at Columbia by getting involved in activities that integrate them into the program community.
Programming Model
We want students who attend Columbia University's High School Summer Immersion Program to gain important skills and insights as a result of their time with us. We have designed an intentional set of co-curricular activities to support each student's development.
Students will be able to articulate personal values that they will use to inform decision making in the college application process.
Students will develop strategies that attribute to their success in college.
Students will develop insight about their career options and professional pathways.
Students will develop skills relevant for leadership in a diverse world.
Students will recognize, respect, and value diverse experiences, ideas, backgrounds, and identities.
Preparing for College
Students are invited to attend college prep events in the form of seminars, workshops, and lectures to prepare for the academic rigors of university life. Whether you want to wow admissions officers with your personal statement or find the right college fit for your personality, our faculty and staff will prepare you to achieve it all.
Events include:
Finding the Right College for You
Academic departments and student activities; distance from home and financial aid; housing options and cafeteria menus; so many factors come together in your college experience! Learn how to navigate the college search process by understanding your needs and finding schools that fit your priorities.
---
Putting Your Best Foot Forward on a College Application
A college application is a jigsaw puzzle, where all the pieces should interlock to create a single, unique portrait of you. In this workshop, we will discuss the various components to your application and how to make the most of each one.
---
Insider Tips for the Common App
The goal of the Common App is to help reduce the barriers that students face when applying to college. In this session, we'll introduce you to the many useful tools that Common App provides, and we'll explore how to personalize each portion of the application for the schools to which you apply.
---
Leadership for a Diverse World
Presented by Columbia University's Student Support Office, students hear first-hand how to prepare for and what to expect from the undergraduate experience.
Events include:
Entrepreneurship 101- What It Takes To Turn Your Ideas Into A Business
In this interactive workshop participants will have the opportunity to see how they can use the basic tenets of the Design Thinking process to move from Inspiration to Ideation to Implementation with new business ideas. We will also cover practical steps for starting your business, protecting creative ideas, and finding collaborators and investors via networking.
Introduction to Emotional Intelligence & Why It Matters
This interactive session will explain the concept of Emotional Intelligence (EQ) and why it matters to all successful student leaders. Participants will learn how to measure their own emotional intelligence and how to implement simple, effective strategies to improve Personal and Social EQ skills.
Introduction to Advanced & Effective Communication Strategies for Leaders
This workshop will outline some of the top principles and skills used by successful student leaders to engage, inform and inspire the people and communities they serve. Participants will have the opportunity to apply these strategies while learning tips and tricks to write highly effective email copy for any/every audience.
Career Skills & Exploration
Find your path and get a leg up on the competition by attending seminars and events focused on career skills and exploration. The events will help you consider what career path may be a good fit and how to present yourself to make that path a reality.
Events offered include:
Myers-Briggs Personality Assessment
In this interactive workshop participants will learn about their MBTI® preferences and gain insight on how these preferences can guide them in the college and career process.
The college interview is an important part of the admission process. Showing your value and interest is key. This workshop will help participants understand and prepare for this process.
Personal & Professional Branding
It is important for you to effectively communicate who you are and what you stand for to different people. Being able to effectively engage virtually is key. In this workshop you gain insight on how to build and manage your brand "You".
Special Opportunities
Faculty Lecture Series
The Immersion Program faculty will host a special lecture series covering a variety of academic topics based on faculty areas of expertise as well as lectures on academic skills to promote college success.
The Art of Negotiation
Democracy: Why or Why Not?
What is the Purpose of Art?
Malleable Memory: Why Eyewitnesses Can be Wrong
What is the Shape of the Universe?
Thinking Like An Entrepreneur
Professor Jack McGourty, Ph.D., adjunct professor at the Columbia Business School, and guest Stephanie Mehta, CEO and Chief Content Officer, Mansueto Ventures, parent of Inc. and Fast Company, engaged in a far-reaching conversation and Q&A with students about the many dimensions of entrepreneurship—and what drives entrepreneurial success. Event video link.
Columbia Writing Center
Columbia University Writing Center will provide several essay workshops throughout each session as well as provide some limited individual writing sessions for Online Immersion students.
Daily Schedule
Individual student schedules will depend upon their course of enrollment. Since students self-register for courses, they will choose a course that works best for their schedule. Most, but not all courses, follow the schedules listed below. All courses are offered on Eastern Standard time.
2-Week Program
Classes run from 8:00–11:00 a.m. or 12:00–3:00 p.m. or from 5:00–8:00 p.m.

click image to enlarge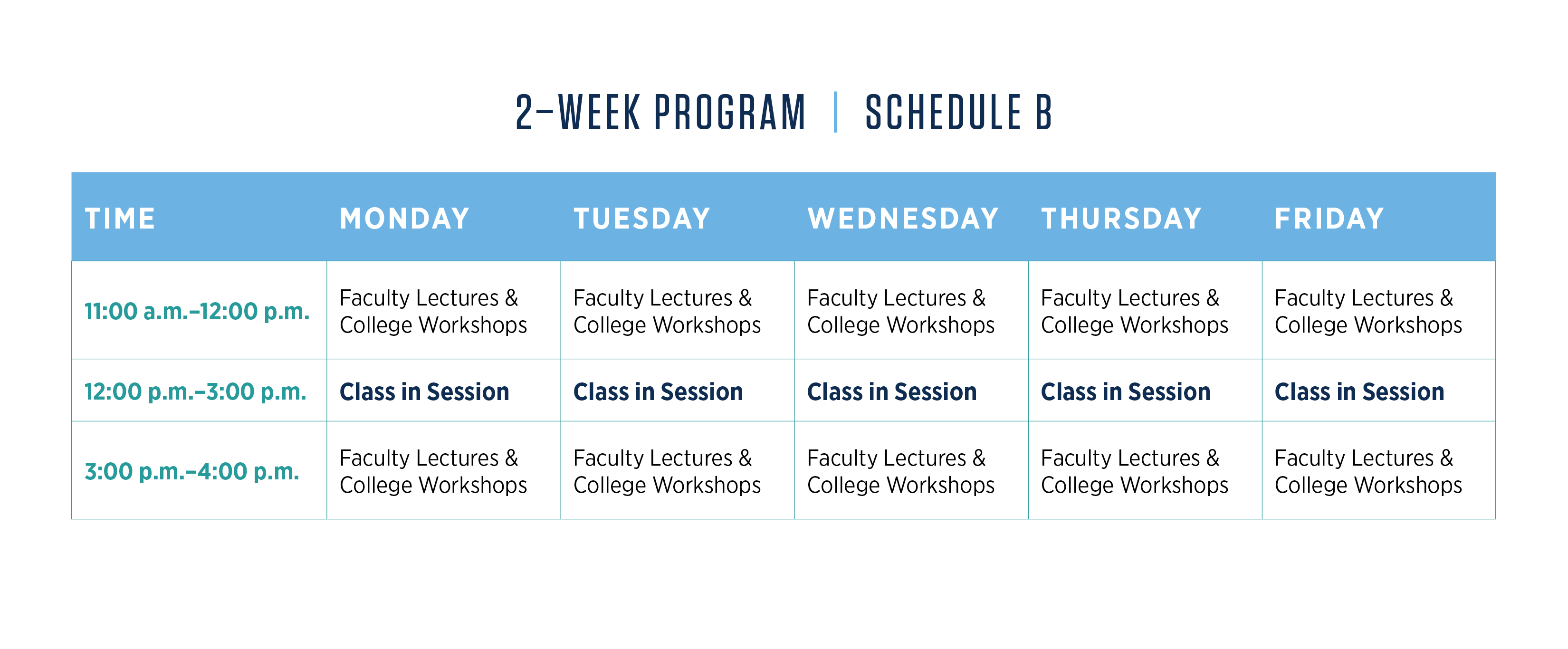 click image to enlarge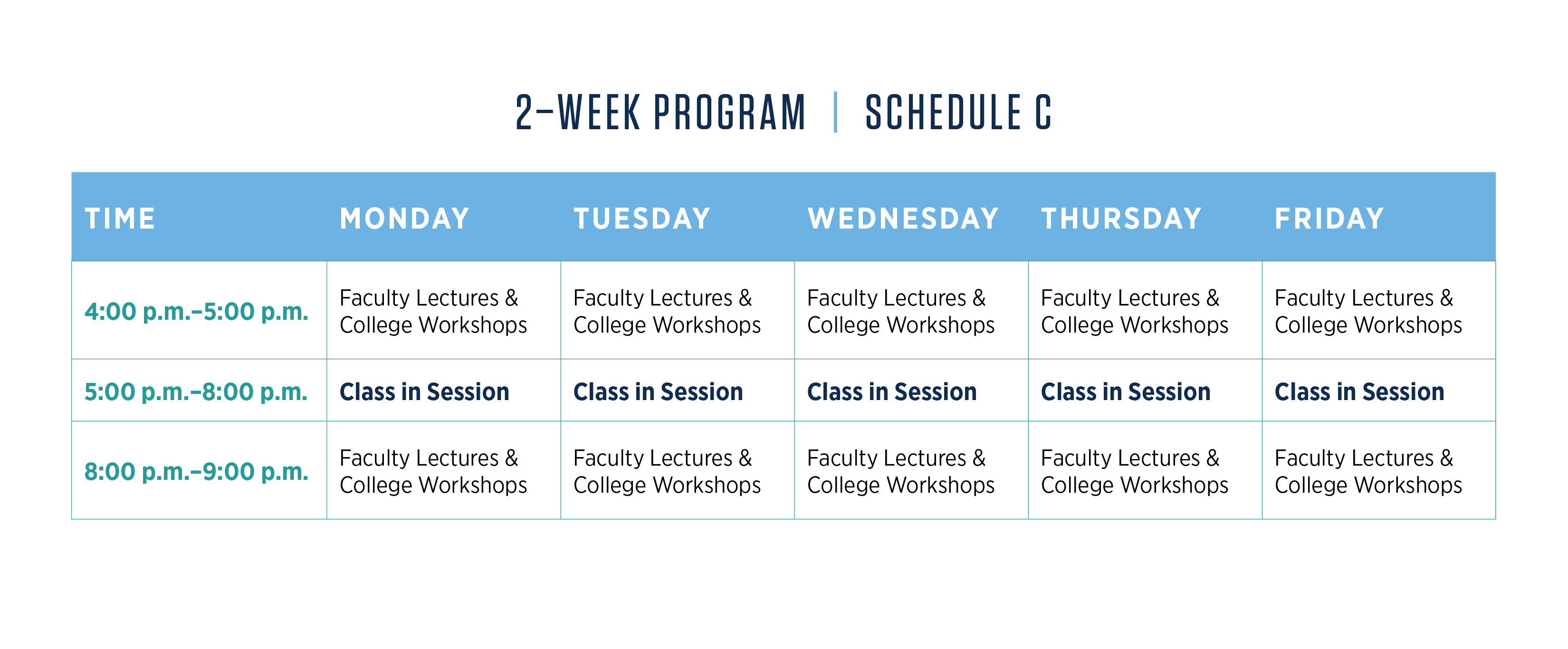 click image to enlarge
1-Week Program
Classes run from 10:00 am–12:00 pm, followed by a 1-hour break from 12:00 pm–1:00 pm, then class continues from 1:00 pm–3:00 pm.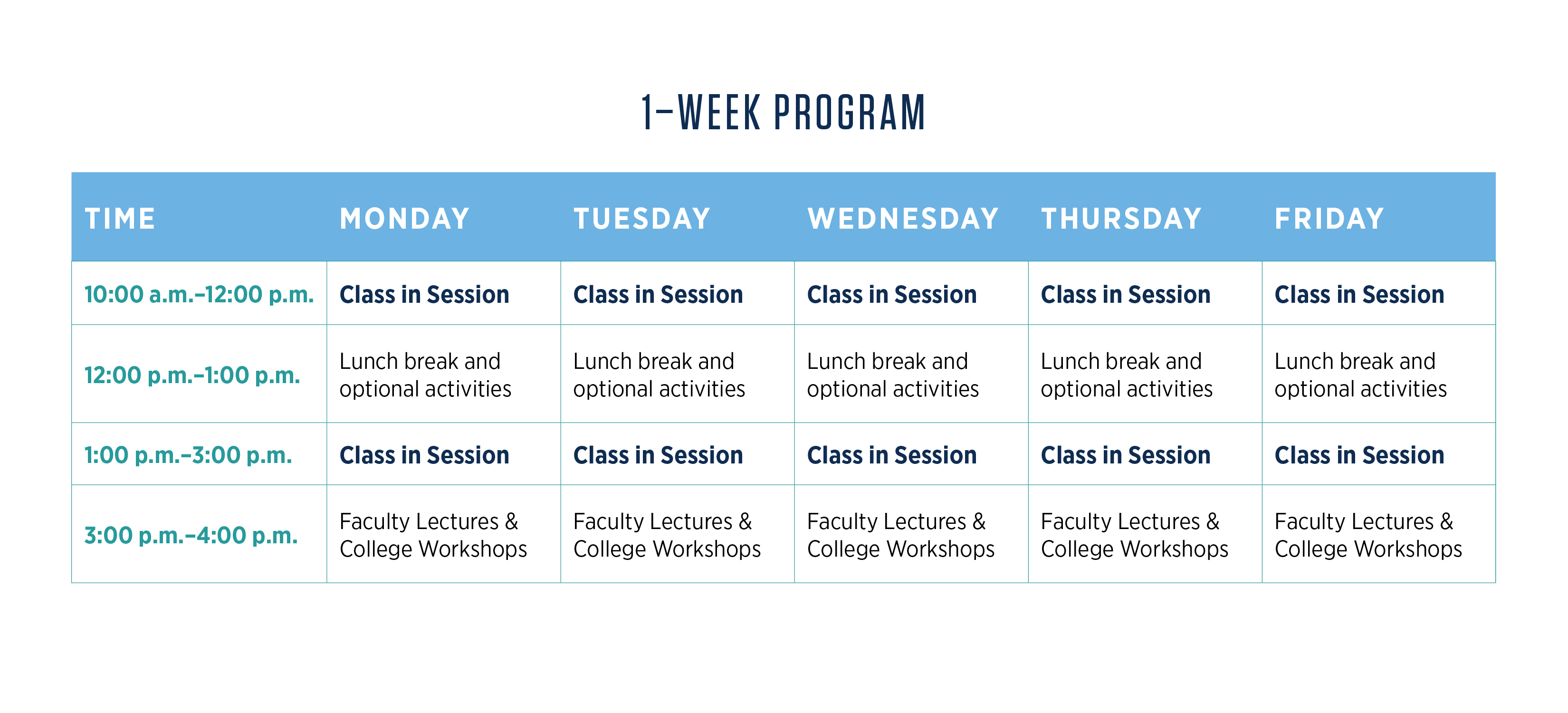 click image to enlarge