Overview
40% of program participants attend the program as commuter students. Along with students in the residential program, they take part in intensive classes every morning and afternoon and are able to participate in daily recreational, co-curricular, and community outreach programs during the midday break and in the early evening.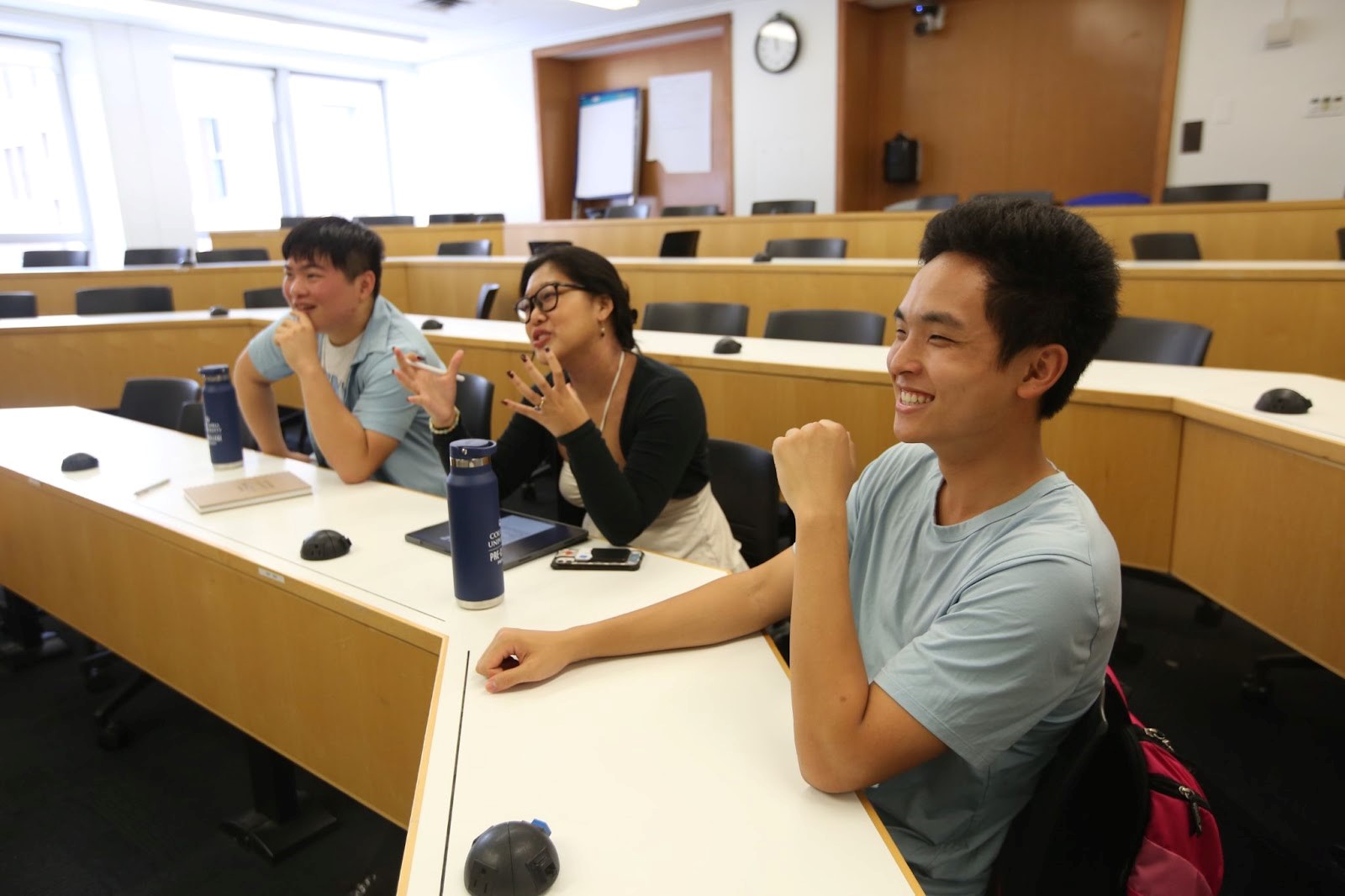 Academics
Students choose one curricular option per session. Each curricular option comprises a variety of related components that provide an in-depth and interactive examination of a particular subject. Courses typically meet for approximately two hours each morning and two hours every afternoon (total of four hours of class time per day), Monday through Friday. Some courses meet for more than four hours per day; see individual course pages (3-Week, 1-Week).
Upon successful participation of the program, students receive a Columbia University Certification of Participation and evaluations written by their instructors; see academics for further details
Courses are taught by members of the Columbia University community, scholars devoted to the highest standards of research and teaching. Combining their efforts with those of trained and experienced course assistants, the teachers create a rich academic experience drawing on the wealth of educational resources at Columbia University and in New York City. Teacher biographical information is available at the bottom of each course description page.
Student Life Activities
Programs and workshops are offered daily during the midday break and in the early evening. These include special lectures given by program instructors, workshops on preparing for college, opportunities to explore career fields, and activities designed to build leadership skills. There are also opportunities to have fun engaging with peers by joining a club or attending a community building event.
Faculty Lectures
Preparing for College
Careers Skills & Exploration
Leadership in a Diverse World

Dining

Commuter students are welcome to eat lunch and dinner on campus Monday through Friday. The meal plan consists of a wide variety of food served cafeteria-style and includes vegetarian and vegan options. Kosher and halal meal options are also available.

Columbia Dining Services can accommodate virtually any allergy-based restrictions. The dining hall is set up so as to accommodate most common food allergies; Dining Services will arrange special menus for students with more uncommon or complicated restrictions. Students and parents with questions or concerns or who have special requirements are welcome to contact Dining Services to speak with a registered dietitian.

---

Hours of Operation (Monday-Friday)

Breakfast: 7:30—9:30 a.m.
Lunch: 11:00 a.m.—2:00 p.m.
Dinner: 5:00—7:00 p.m.

---

Daily Schedule

Individual student schedules will depend upon their course of enrollment. Since students self-register for courses, they will choose a course that works best for their schedule. Most classes start at either 9:10 am or 11:10 am ET, although there are a few exceptions in which a course may start at a different time. See individual course pages (3-Week, 1-Week).

Classes in Session

Classes take place on Columbia's Morningside Campus and meet twice daily, once in the morning and once in the afternoon, each with a ten minute break.

Lunch and Midday Break

During the midday break*, which is approximately two hours, students can eat lunch, do homework, explore the neighborhood, relax with friends, and participate in a variety of organized activities and events.

*Please be aware that meeting times for some curricular options overlap with the midday period.

Evenings

Students from the commuter program are welcome to take part in early evening programming that ends before 6:30 pm. Commuter students should plan to leave campus no later than 6:30 pm Monday-Thursday. On Friday evenings there will be optional community building events that commuter students are welcome to attend with permission from a parent/guardian.

There is no weekend programming for commuter students.

click images to enlarge

Parent & Guardian Engagement

Parents and guardians can expect to be copied on most emails the program sends to students. We make every effort to loop parents in on important program dates and deadlines, announcements, and next steps. Parents can always reach out to our Student Services office to get updates or ask questions while their student is enrolled in the program. Our Student Services office may also reach out to parents directly for issues related to attendance, student health, student conduct, or to get permission for a student to participate in a special activity.

Eligibility

The commuter option is open to students in the 3-week and 1-week program. Students entering grades 9 through 12 and freshman year of college are eligible to attend as day students.

All admitted commuter students must provide documentation as part of the enrollment process that they will live at a residence that includes direct adult supervision in the form of family members or family friends who will live in the same residence. Students must attest that they will not take unsupervised housing in the form of hotel rooms, Airbnb rentals, hostels or other such accommodation.

Program Cost

Information regarding program costs and associated policies, can be found on the Program Costs page.